A robust package for less stress
Experienced travelers know: Even small unexpected events can have ripple effects on a trip. The International Travel Medical Plus plan has you covered on both medical and non-medical fronts, with both trip cancellation coverage and travel medical health care insurance. Our easy-to-understand package plan is designed for all sorts of travel, from vacations to global business, and for student and volunteer trips.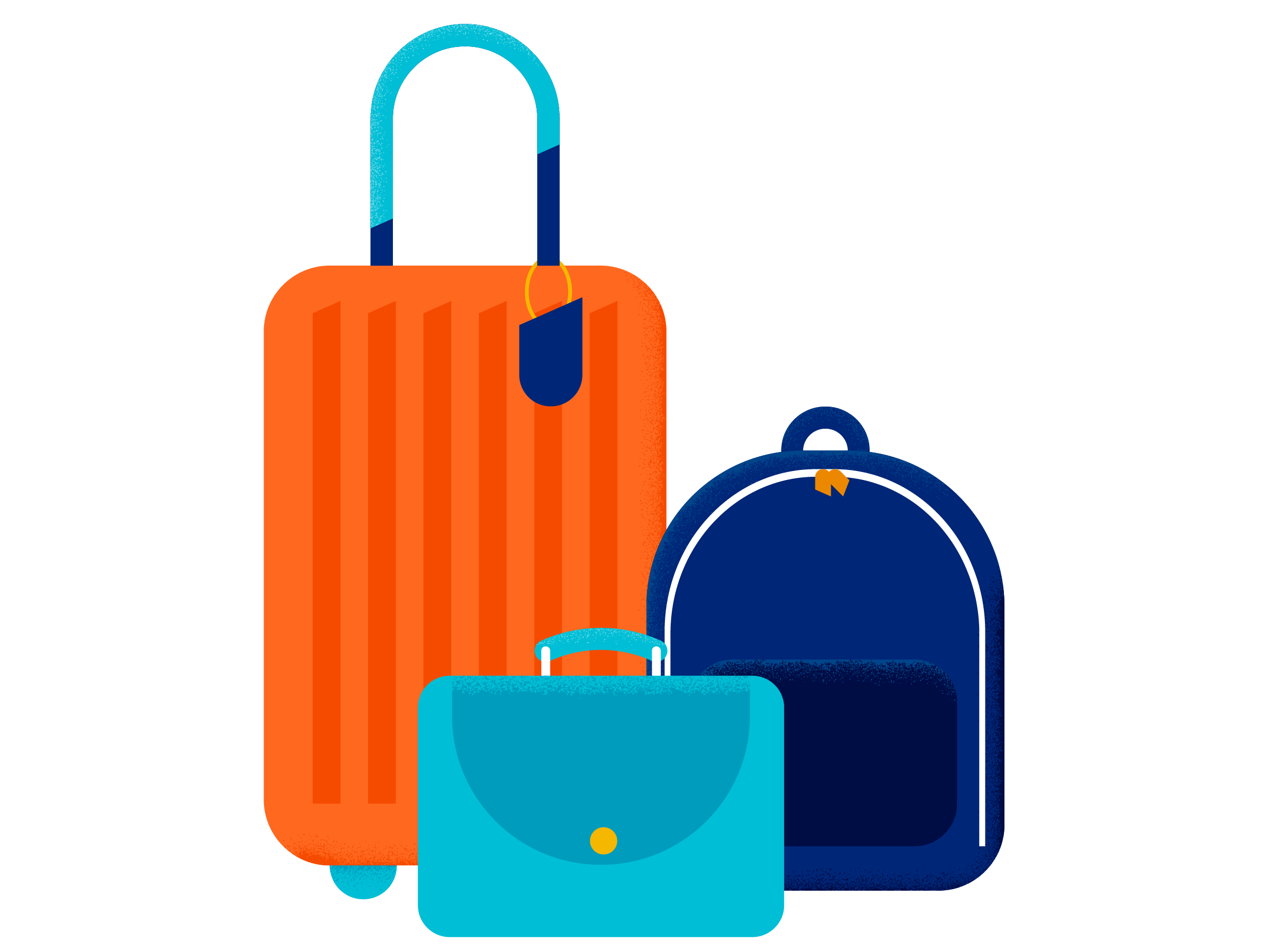 Change of plan? That's covered too
Travel challenges happen to everyone at some point, whether it's a shift in plans, a cancelled event, or baggage snafus. Our coverage helps with everything from accommodations to meals to replacing items in lost baggage.
Access the right care, wherever you are
Behind every SafeTrip plan is UnitedHealthcare Global's network of care providers around the world. Our network has been vetted for quality, so you can feel confident that whatever happens, from a dental need to an accident on the slopes to an emergency, your care is the best local option.
More about our protection plan
By investing in an International Travel Medical Plus plan, you are ensuring that you have help in unexpected situations, with backup from our 24/7 Emergency Response Center just a phone call away.
Accident and sickness
An unexpected illness or unfortunate injury does more than disrupt a trip. Without proper coverage, you might have difficulties finding the right care and you will be responsible for medical costs. With our plan, we've got you covered.
Medical evacuation
Whether you're injured during a trip or simply in the wrong place at the wrong time, you might need emergency help to get to proper care. Our experts coordinate medical evacuation for worst-case scenarios.
Medical repatriation
An unexpected health issue while on the road is challenging enough, but being away from family support adds to the stress. Our plan includes travel coverage to get you home to loved ones, safe and sound.
Cancel for work reason
It's just business savvy: If your travel is disrupted due to a change in business plans or other work demands, you can manage the cost of the unexpected trip changes through our cancellation coverage.
Baggage delay or loss
Lost your luggage — just for a day or two, or for good? We make replacing those everyday essentials easy with no-hassle coverage to reimburse you for replacement items including clothing, toiletries and more.
Trip cancellations, interruptions or delays
Be covered for last-minute changes with a plan that ensures that every leg of your trip has a backup plan, whether it's a delayed flight that creates a missed connection or a canceled tour at your destination.
Interrupted trip? You're covered
Global travel can mean contending with weather extremes and other unexpected events that affect transportation schedules and accommodations. The right plan lets you continue with your trip thanks to nearly anywhere support.
Connect with support, quickly
When you call our 24/7 Emergency Response Center, specialists can help assess the best local care for your needs, or arrange medical evacuation if needed. It can cover the cost of specialist medical transportation, whether ground or air ambulance, to a quality hospital or center of medical excellence.
Work or weather is getting in the way?
If your itinerary is changed for health, weather or work reasons, this plan steps in with coverage that includes accommodations, meals, transportation and other support.
Coverage for full-on adventures
Some vacations are more daring than others, whether due to your favorite activities or the terrain of your destination. Our optional add-on Extreme Sports coverage includes scuba diving, parachuting and more; optional Rental Car Damage is available as well.
Your International Travel Medical Plus Benefits
Robust benefits means just one call puts our specialists to work for you to get you the help you need, wherever you are in the world.
Medical benefits
In case of a covered sickness or injury—or even if you just have a toothache —your medical needs are our top priority. We'll help you find quality local care for your situation, and ensure that any payment needs are immediately addressed.
Accident and sickness expenses

When the unexpected happens and you find yourself ill or in an accident, your medical expenses whether inpatient or outpatient as well as prescriptions are covered under this benefit. 

Dental benefits

Emergency dental needs are covered and our global network of medical providers means we'll help direct you to a quality local dentist.

Trip protection
If an unexpected event or unfortunate change occurs, you have backup to help with accommodations, meals, transportation and more.
Trip cancellation

Depending on your level of coverage, non-refundable trip costs can be reimbursed if your trip is cancelled.

Trip interruption

Got sick midway? Change in work schedule? Your coverage kicks in mid-trip if needed, trying to get you home safely and providing reimbursement for remaining deposits and payments.

Baggage loss or delay

You can't fully enjoy your trip if you don't have everyday essentials. If your bags are delayed or lost, our coverage ensures you can get what you need up to the limits selected in your plan.

Additional benefits
Extra coverage and services that anticipate the ripple effects of a disrupted trip.
Service animal boarding

If you are traveling with a service animal, this coverage ensures safe haven for that animal if you are injured or sick, while traveling alone

Virtual Visits

Online doctor appointments let you take care of your health whenever, wherever, without the hassle of interrupting your trip.

Destination profiles

Learn key information and insights about the places you are traveling, so you can depart fully informed on need-to-know details.

Optional add-on benefits
Special trips require special coverage, and our plans are designed so you can add on exactly what you need for that next big adventure.
Extreme sports activities coverage

From once-in-a-lifetime mountain climbs to paragliding to scuba diving, you can take an adventure trip knowing that in case of emergency medical or evacuation needs, experts are ready to help.

Rental car damage

Whether a rental car is stolen, vandalized, or damaged in an accident, this coverage ensures you can continue to enjoy the rest of your trip.

Sporting equipment loss & delay
Frequently asked questions
See answers to the most-asked questions.
Make one call any time, day or night to our Emergency Response Center to connect with a team of specialists, and get multilingual support.

For emergency assistance, call us at +1.800.527.0218 or at +1.410.453.6330 when you are abroad. You can also email us at [email protected].

Evacuations are complex and typically involve:

Evaluation of the transport requirements (such as oxygen requirements, healthcare specialists, special equipment, altitude specifications, etc.)
Discharge administration
Admission into a new facility
Identifying qualified aeromedical escorts and air ambulances
Coordinating ground transportation on both ends of the evacuation
Immigration and flight clearances
Assistance with family travel arrangements

We are here for you with non-insurance travel assistance services. You can call our Emergency Response Center to assist with lost or stolen travel documents, passports, legal referrals, translation services and a host of other non-medical problems.

Contact us via the phone +1.410.453.6330 (International), +1.800.527.0218 (toll free) or email us at [email protected]. 
Learn about all the ways we help
Good times ahead: vacation travel
Wherever your next adventure takes you, our plans ensure you enjoy your vacation.
Find your vacation plan
Work trip safety: business travel
Traveling for work can be a mix of business and pleasure. The right SafeTrip plan covers your needs for both.
Prep for a work trip
Be the change: global volunteering
There's something in you that drives a desire to make the world a better place. Choose a plan that protects you, wherever your passion may take you.
Start your adventure