Virtual Visits and how to access them
September 23, 2022
When you don't feel well, getting to the doctor's office can be a challenge. With Virtual Visits, you can talk to a doctor whenever, wherever, and at a time that's convenient for you, without the hassle or risk of leaving home. Doctors can diagnose and treat a wide range of non-emergency medical conditions, such as colds and rashes, 24-hours-a-day, 7-days-a-week.
What are Virtual Visits?
Think of Virtual Visits as a doctor's house call, done by phone or video. You can schedule your visit 24/7, getting care without delay from a trusted, knowledgeable doctor, providing clinical advice for common conditions like the flu, sinus infections, sore throats, allergies and more.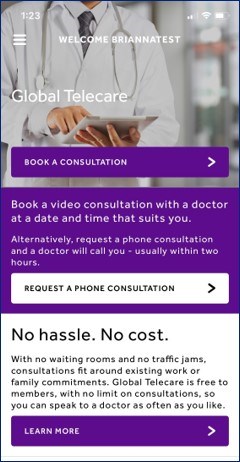 Why choose a Virtual Visit?
Visiting a local doctor when traveling abroad has its own special challenges, whether it's finding the right kind of care or feeling confident in the services they provide.
By using Virtual Visits, you can access care for non-emergency situations. Doctors will provide personalized care; in addition, you avoid the potential of exposing yourself to other sick people in-office or in-transit, adding safety and protecting the health of you.
No more waiting rooms or inconvenient appointment times. Virtual Visit doctors are available throughout the day and week to diagnose non-emergency medical conditions.
How to access Virtual Visits?
Download the Global Telecare app here. 
Sign up by completing the fields required and hit continue.
You will be asked to enter your unique policy ID (located on your ID card) and set up a password. 
Once set up, you will receive your activation link via email. 
Activate your account and get started by logging in and searching for a doctor.

Note: Please note that Virtual Visits are only available for our International Travel Medical Plus and International Travel Medical products. Registration is not available until the policy start date listed in your confirmation documentation.
Proper functionality of the online and mobile applications and tools is dependent upon appropriate connectivity and features of the device, potentially including international calling, camera and certain other capabilities.